National newspapers and magazines have been commissioning quality photography from Guzelian since 1986. Much of that work is generated by Guzette, our unique daily preview of picture-led story ideas.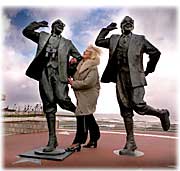 Your ideas. Every press release you send us is read, understood and - if it's good enough - summarised for Guzette, which is emailed or faxed each weekday to news and picture desks and top reporters.
Guzette's clear copy gives busy editors just what they need to help plan their coverage - meaning more publications for our talented photographers.
Have you got news for us? As a product of the UK's most respected picture agency, Guzette gets the attention you'd expect. But there's a daily need for more ideas, events and stories. Over to you...